Thanet ADDers Newsletter


Volume 1, Number 5, December '97
Important, Please Note
This is a copy of our local group's paper newsletter sent out to members of Thanet ADDers. For our main online homepage click here for adders.org. Much will have happened since this newsletter was sent out, so check adders.org for up to date information.
Wishing You A Very Happy Christmas And A Prosperous New Year From Thanet ADDers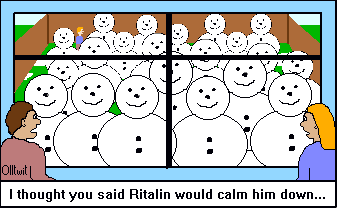 Youth Club, which meets every Friday evening during school term time at 6.00 p.m. at Hartsdown Leisure Centre, is open to all ages and finishes at 7.30 p.m. It is also an opportunity for parents to get together in the Snack Bar there, for a chat and a coffee, so please come along. The next youth club meeting will be on 9th January 1998.
In the New Year we are starting discussions with other groups and contacts we have made, to organise a national summer camp similar to ones already running in the United States, for ADD/ADHD/Special Needs, youngsters. Itís in the early stages at present but will hopefully start with a one day event at Easter, followed by a weekend at Whitsun leading up to a full week in the summer. It is planned to start by using existing scout camps. If there is sufficient response, then we have our eyes on a possible permanent location in Oxfordshire.
Monthly meetings for our group have been a bit of a hit and miss affair, so in the New Year we are going to try and arrange for 2 or 3 major get togethers for talks by well known people.
We wish you all a very Happy Christmas and a prosperous New Year.
---
Custom Search
Home
About Us
ADD/ADHD News
ADDerwards
Advertising
Books
Contact Us
Creative ADDers
Donate
Events
Forums
Information
Links
Natural Remedies
ADDers.org News
Research
Resources
Search adders.org
Site Map
Social Stories
Sponsor Events
Student/Researchers
Support Groups
Supporters
Join us on....

Twitter

Facebook