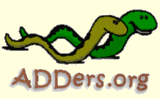 About Us
ADD/ADHD News
ADD/ADHD Books
ADDerwards
Creative ADDers
Donate
Events
GO Games
Information
Links
Natural Remedies
Research
Resources
Support Groups
Whats New
ADHD SOFTWARE
FREE DVD or CD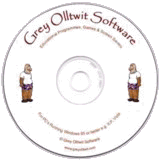 ---
ADD/ADHD Online Information
---
ADHD Forum Boards

This site is dedicated to the memory of Sarah-Jayne Bass (formerly Caroline Hensby) who tragically passed away on 6th February 2010 aged just 47. Sarah-Jayne was the co-founder of adders.org and helped many hundreds of families since 1997 cope with all matters relating to ADHD and Special Needs. She was a very active member of the ADD/ADHD community in the United Kingdom, meeting government officials and campaigning for better rights for ADDers and their families. She was a pillar of the ADD/ADHD forums and her active participation was greatly missed. Sarah-Jayne along with the other Admin team members gave their time and devotion to the forum boards and helped a great many families. Unfortunately the ADHD forums have now had to close. Please find a list of other forums below.


Some previous forum board members and admins have set up a new forum - Click Here


AADD-UK Talk (Adults with ADHD)


ADD Forums - Attention Deficit Hyperactivity Disorder Support and Information Resources Community


ADHD Message Boards on AdhdNews.com


Attention Deficit Hyperactivity Disorder Forum on PsychForums.com - Psychology & Mental Health Forums and Blogs


ADHD Marriage Forums - Ned Hallowell, M.D. and Melissa Orlov


ADDitude Community Forums


ADD/ADHD Help - Forums and Discussions - MedHelp




---

Custom Search

Home About Us ADD/ADHD News ADDerwards Advertising Books Contact Us Creative ADDers Donate

Events Forums Information Links Natural Remedies ADDers.org News Research Resources Free Ads Search adders.org

Site Map Social Stories Sponsor Events Student/Researchers Support Groups Supporters

Join us on.... Twitter Facebook


rien de plus simple que film streaming venez vite !
Create your new smile with a Boynton Beach dentist at Premier Dentistry of Boynton Beach.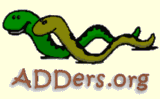 ADHD SOFTWARE
FREE DVD or CD