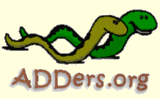 About Us
ADD/ADHD News
ADD/ADHD Books
ADDerwards
Creative ADDers
Donate
Events
GO Games
Information
Links
Natural Remedies
Research
Resources
Support Groups
Whats New
ADHD SOFTWARE
FREE DVD or CD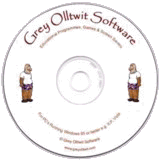 ---
ADD/ADHD Online Information
---
ADD/ADHD News

December 1st 2001 - 00:10 GMT (Updated Dec 3rd)


European Meeting On ADHD

The following Press Release was received from Jim Hedgeland of the ADHD UK Alliance:

ADHD Parents Break Down European Barriers to Social Exclusion

Twenty five parents from ten European countries, including Britain, met last weekend in Denmark as part of the 'Knowing Me Knowing You' (European Social Fund project) to discuss their common experiences of being affected by ADHD (Attention Deficit Hyperactivity Disorder). Overcoming language and social barriers, the families spoke of being excluded from their communities because of this poorly understood condition. They called for greater understanding of the condition and more resources to be allocated to better diagnosis and treatment.

ADHD is a complex condition causing problems of attention control, overactivity and impulsiveness. Children with ADHD may have problems concentrating at school, leading to anti-social behaviour and exclusion.

The seminar offered the first opportunity for ADHD parents from across Europe to have a collective say in the ADHD debate, utilising their knowledge, skill and every-day experience to develop a common understanding and a clear message to other parents and professionals.

Jim Hedgeland, Manager of the ADHD UK Alliance says ` It quickly became clear that, although attitudes to ADHD vary across Europe, the experience of ADHD is common to all parents, regardless of the country they come from. The UK government needs to respond by increasing awareness of the condition and allocating sufficient resources to ensure early diagnosis, holistic treatment and better support for those affected by ADHD.'

All participants strongly believed that there is much that is positive in living with ADHD. They said that early diagnosis and holistic multi-disciplinary treatment can be very effective in helping children and their families to have a more positive life experience. Without this help, many children and adults will face a life apart from their communities and anti-social or even criminal behaviour may result.

The way forward is for parents, adults and professionals to find effective ways to work together at local, regional, national and European levels. The ten countries represented made a commitment to work together in the future to ensure that ADHD is high on their governments' agendas.

Parents needing information about ADHD are welcome to telephone the Contact a Family Freephone Helpline 0808 808 3555

For information about the ADHD UK Alliance, please send an A4 stamped addressed envelope to : Jim Hedgeland, The ADHD National Alliance, 209-211 City Road, London EC1V 1JN.

According to additional information sent with the press release "The three-day seminar was part of the European Social Fund Project 'Knowing Me Knowing You' The aim of the Knowing Me, Knowing You project is to investigate the extent and specific social exclusion problems which are experienced by children, families and adults who are affected by ADHD throughout Europe. The project will: map the many splintered organisations, groups and efforts, engage views and wishes of parents, adults and professionals from each country to identify the common core problem areas and to explore parent orientated cost effective solutions. The project will also create a European interactive website for parents."

In an email interview with Jim Hedgeland, Simon Hensby of adders.org asked the question, "Parents of ADHD youngsters and spouses of Adults with the condition might say that this is all very nice for the participants having a European get together to discuss ADHD but what real, tangible benefits can they hope to see as a result of such meetings?

Jim replied as follows:

Simon this is not a 'nice' European get together to discuss ADHD, on the contrary, this meeting in Denmark is a planned seminar of the 'Knowing Me Knowing You' (KMKY) ESF project (details of the seminar have been published in ADDvance the newsletter of the Alliance.

Six UK participants were drawn from England, Scotland, Northern Ireland and Wales. The seminar represents, I believe, the very first opportunity for parents in 10 different European countries to meet to discuss shared issues, concerns and problems facing parents across Europe in relation to ADHD and social exclusion. Empowering parents and listening to parents is of paramount importance to the Alliance and to the KMKY project. This reflects the long standing view in many countries that parent are not generally listened to, despite how knowledgeable and experienced they are.

The purpose of the KMKY seminar is to address the feelings, views and wishes of parents and to specifically draw upon their individual experience, skills and ability. The commonality of the experience of parents across Europe is striking as is their common suggestions for particular approaches and call for change.

The key theme of the KMKY project is ADHD and Social Exclusion and its effect on children, families and adults. The seminar for Adults and professionals will be held in Stockholm in February 2002.

The benefits of the work of the KMKY project will be many fold, though it is too early to be specific at this early stage. Already, European parents and groups are learning about each other through the 'mapping project' and subsequently are already beginning the process of valuing each other and identifying the need to work together at a European level in the future i.e. from the perspective of developing appropriate future European law, policy and guidelines to enable greater awareness of ADHD and improve service provision for children, families and adults.

KMKY Seminar reports will be published and distributed across all of the European countries in due course. Copies will of course be targeted to all European Social Exclusion/Inclusion Units, MEP's, relevant think tanks, groups and projects. Copies will also be sent to appropriate local, regional and national and European government departments. Press releases will be made available during progress and at the end of the project.
The following are comments from some of the UK delegates who attended the conference and we are grateful to them for allowing us to publish them here:
Graham Green
"It was an honour to be invited to a conference for parents by parents who had so much COMMON Ground and spoke from the heart on the way all of us are being treated by the so called system not just here in the U.K. but in all Countries and the positive ways forward for all who are connected with AD/HD and what should be the next step or steps on those roads forward we all need to become one voice for all who suffer with AD/HD in all its forms and this conference i believe as all who attended is one of the first steps forward not backwards and positive not negative is our aim."
Caroline Morrison
"The Conference was a resounding success. I felt so privileged to be among so many knowledgeable, positive and dynamic people. It was important to be able to identify areas of good practice, as well as not so good, within our own country and within the other countries that were taking part. Sometimes as an AD(H)D parent you can feel alone but at this conference there was a real sense of belonging. As a parent I felt as if I was with people who really know what it is like. If anything, the Copenhagen experience made me even more determined to change things for children with AD(H)D. I feel that the time is right to build on the momentum created there;it's time for greater joined up AD(H)D working within the our individual countries, the UK and Europe. As Henry Steele Commager( American Historian) once said, Change does not necessarily assure progress, but progress impacably requires change."
Anita Mann
"Attending the 'Knowing Me Knowing You' seminar in Denmark was a really valuable opportunity for us, as parents of children with ADHD across Europe, to discuss, from a parent's perspective, our experiences of the provision regarding diagnosis and early intervention of ADHD.

As individual parents we can achieve little change, but as a united group of parents a consensus as to how to promote social inclusion for our ADHD children and their families, can have strength. Despite our different cultures and languages, we all shared similar experiences, hopes for the future and a desire for a more positive ADHD world. As a group we had a clear understanding of the provision needed across Europe for ADHD families.

The group also displayed a determination to bring about this change, which has already commenced with press releases about the event, a television documentary in the making and a report to be published based on our findings.

We discussed the pockets of good practise across Europe, where professionals collaborate to meet the real needs of ADHD families and in contrast identified other parents' experiences of a lack of knowledge about ADHD (often throughout society). We recognised that we must utilise the examples of appropriate provision, learning by example, to plug the gaps across Europe.

As parents, we have an insight into the needs of our children which is often largely ignored in the professional world. This seminar gave us the opportunity to express that voice and to be listened to across Europe."
Simon Hensby for adders.org
---
Custom Search
Home
About Us
ADD/ADHD News
ADDerwards
Advertising
Books
Contact Us
Creative ADDers
Donate
Events
Forums
Information
Links
Natural Remedies
ADDers.org News
Research
Resources
Search adders.org
Site Map
Social Stories
Sponsor Events
Student/Researchers
Support Groups
Supporters
Join us on....

Twitter

Facebook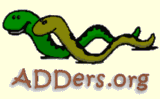 ADHD SOFTWARE
FREE DVD or CD